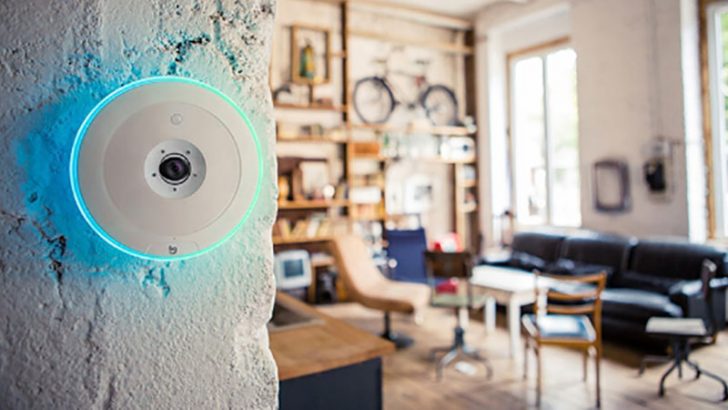 Berlin-based start-up BuddyGuard is taking orders for FLARE. This is the Artificial Intelligence (AI) home security solution it first showed in 2014. In February this year the company announced that it had received over $1 million in seed funding. It has now launched an IndieGoGo campaign for pre-orders. Initial orders are already at over $250,000, more than double the target.
FLARE is an interesting device. It uses a combination of known technologies including HD camera, motion detector, microphone and temperature sensor. It then uses them to create a profile of everyone it sees. It then compares that profile to see if it knows about them and each visitor to a house. Whenever it detects a person or family pet it checks its profiles and authenticates them or sounds the alarm. Another way of knowing when someone leaves or returns is by monitoring their mobile phone.
To protect against power drops, there is a battery back-up which can power the device for up to three days. An app allows customers to control FLARE and when activated it will stream data to their device. Customers who want additional security cover can sign-up for monitoring by a separate security monitoring service. This provides additional support for customers who may be travelling or unable to access the app.
FLARE uses multiple communication channels. It uses built-in Wi-Fi and Bluetooth, it can also connect using the mobile phone network. This prevents burglars cutting the telephone lines to prevent the system calling for help. An interesting feature is the covering up of the camera lens once FLARE has been disarmed. There is a lot of evidence of hackers activating device cameras and microphone to gather information. FLARE uses the microphone to get special instructions, deactivation is therefore unlikely.
The developers have given little away about the security on the communications channel for FLARE. There is no mention of what level of encryption or password protection is in place both for access and for data. Both of these are important to stop a third-party remotely hacking into the device and disabling it.
Conclusion
It is good to see a European technology company challenging the large players such as Nest. Home security is the initial focus for FLARE but there is no reason it cannot work for businesses.
FLARE is just $349 per unit for the IndieGoGo campaign with units due to ship in November 2016.