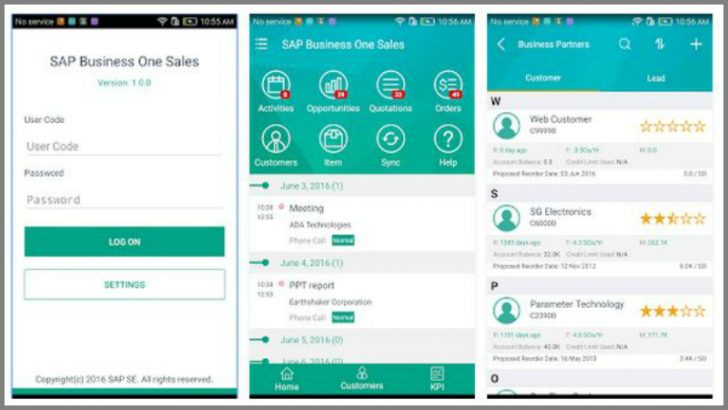 SAP has delivered the SAP Business One Sales app for Android users. This launch adds Android to the  iPhone and iPad versions which were launched in April this year.
According to a SAP spokesperson there are no differences between the two apps. The version number being released on Android is 1.0.2. SAP released the latest version 1.1.12 on the Apple Store with a few updates on 25 June. These included support for special item prices and also displaying a customer churn probability for sales teams in the field. The release also includes several bug fixes. Full release details are found in the Apple Store.
What the take up of the App is difficult to say. There are still no comments or feedback on the App in the Apple UK store. This means it is difficult to know what end users actually think. We asked SAP for sales figures but they were not available at the time we went to press.
There is a catch for Android users. This App will only work on devices using at Android version 5.0 and above. On the upside it uses just 5.8MM of space on the device which is far smaller than the 26.7MB used on Apple devices. As with the Apple app it gives sales teams access to business information wherever they are.
It is not surprising that the port to Android has taken a few months more than the Apple versions. Apple and SAP announced an agreement in May this year to work together to create mobile apps. Therefore SAP would concentrate on the Apple port prior to any other.
With Microsoft effectively pulling the plug on its mobile experiment companies now only need to concentrate on two key mobile ports: Apple and Android.  This does not make it simple to do so however. With several Android operating systems in existence it is necessary to carry out extensive testing.
Conclusion
Many companies do not want to afford the cost of Apple devices for their employees. It will be interesting to see whether the take up of this app is greater than the Android one. With this done one wonders what the next task is for the mobile development team within SAP? With recent research showing that millennials want to work in a flexible way there is a demand for mobile apps.