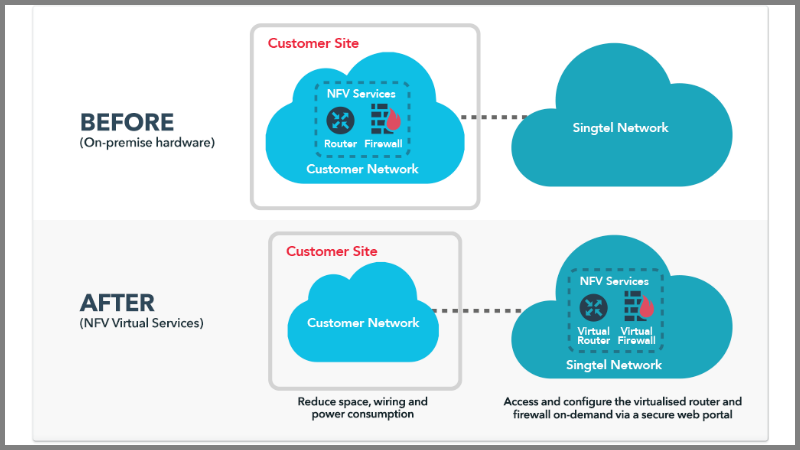 Singtel has announced the availability of a software-based network service in Asia-Pacific. Using the service enterprises will be able to replace both routers and firewalls by a service hosted in the Singtel cloud. The new service uses Network Function Virtualisation (NFV) technology and comes weeks after Telstra announced a similar solution in Australia and beyond.
NFV aims to reduce the amount of hardware that has to be purchased, installed and maintained by enterprises and carriers within their global network. The new service can be deployed with the help of the secure web portal that Singtel has developed. Both routers and firewalls can be set up, accessed and configured on demand using it.
One of the first customers to implement the solution is Sheng Siong supermarkets. They have deployed the NFV across four network locations in Singapore as a pilot. Mr Gary Pow Han Chin, Chief Information Officer of Sheng Siong explained: "We are constantly improving the way we operate to serve our customers better. Through Singtel's NFV service, we replaced routing hardware from four different stores easily with one integrated, virtualised platform. We look forward to transforming more of our sites by centralising the management of our networking assets with Singtel's NFV services."
While there are no details around the cost savings achieved by delivering SDN and NFV, that Sheng Siong are expanding the roll out would infer that it has been a success.
Benefits of SDN
The service is to be made available on three of Singtels networks: Meg@POP (eLite and EthernetLink), SingNet eLite Internet Access and SingNet Ethernet Internet Access. It follows the  launch of its ConnectPlus Software-Defined WAN service last year. This will not be the end of the enhancements as Singtel is looking to roll out some cybersecurity services such as threat management. The service is not yet available globally although the press release stated that it will be rolled out in the near future. Optus, will no doubt be eager to bring the solution to market as an option against the Telstra solution.
According to Mr Lee Han Kheng, Vice President of Global Products, Group Enterprise at Singtel: "The Singtel NFV service caters to enterprises with little or lean IT support but which operate physically in many locations. This software-based service helps customers minimise on-site set ups and support of IT equipment as network administration can be remotely accessed through a centralised portal."
"This means customers have the flexibility to pay only for what they use, without worrying about the fixed costs of owning networking equipment which may be underused or become obsolete over time. Enterprises can also scale up their requirements dynamically as their business grow. Customers win in terms of cost efficiency and ability to scale their operations according to demand."
Singtel lists several benefits of its solution:
Accelerate service deployments
Achieve operational efficiency by centralising and "right-sizing" your network resources
Minimize on-site set up and support
Reduce space, wiring and power consumption
Up to 99.95% Service Availability assurance
While there is no doubt that in reducing the amount of equipment required in office locations the space required in racks will also be diminished. However for many companies the 99.95% SLA is often lower than the more traditional network functionality can provide. It would be interesting to see whether Singtel and others can provide solutions that allow for secondary links as standard and increase the uptime for the network.
Conclusion
Some companies will see the benefit of rapid deployment and configuration a benefit. However, as the number of services available through NFV increase so will the likelihood of companies adopting it.  As the services mature it will be interesting to see how companies differentiate themselves and what the service differential is.
Singtel are one of the first in Asia to announced NFV and SDN. However these announcements are becoming commonplace and it will be interesting to see how quickly enterprises adopt them.