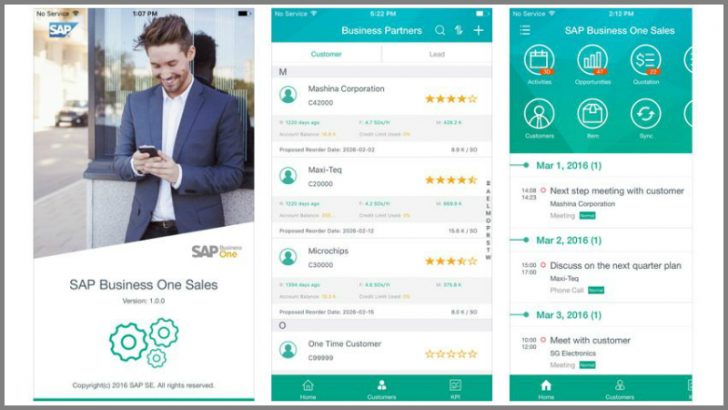 The SAP Innovation Summit is being held in Orlando, Florida this week and has been used to launch the SAP Business One Sales for mobile app. The app only appears to be available on Apple devices such as the iPod touch, iPhone and iPad using iOS 8.0 or above. There does not appear to be an Android or Windows version yet.
The app now works with SAP HANA, delivering data and information from the cloud to the fingertips of Sales professionals using SAP Business One. The main SAP Business One app was also updated last month as well to work with SAP HANA. This latest app has five key features that users can take advantage of:
Get coverage of the entire sales pipeline and handling of all sales-related documents, including sales opportunities, quotations and orders
Manage customers and leads using analytical information and intelligent outlooks
Arrange daily activities and record all check-ins
Monitor sales performance using predefined KPIs
Check inventory levels and get product details
Not only must customers be using the correct Apple devices but they must also be using SAP Business One 9.2 for SAP HANA as the backend. This will be slightly disconcerting for the many Business One customers who might want to take advantage of the new functionality but are using older versions of the software. SAP are likely to increase the modern technological features of their cloud based products and at some point customers will need to consider whether they want to upgrade their solution with the appropriate risks and costs. The press release infers that the app is available to 50,000 Business One customers but these two restrictions might limit that availability severely.
What is impressive about the app is that it is already available in up to 25 different languages. For those unsure about whether this will deliver any value it is possible to install and use the app with a demo login. It will be interesting to see how intelligent the business outlooks are. With the power of SAP HANA, deployed correctly this could make a significant difference to sales teams. It will also be interesting to see what benefits customers get once it is deployed and how much detail will be in the case studies that will appear soon. So far there have been no reviews of the app on Apple App Store.
This is not the first mobile app for SAP Business One. The original app has been available on iTunes since 2010. The difference is that this latest app is targeted specifically at sales teams rather than general business users. It will be interesting to see whether SAP develop and deploy further role-based apps, for example for field service team members.
Chris Chute, vice president, SMB Cloud and Mobility, IDC commented: "Enterprise resource planning and e-commerce are two of the top five fastest-growing mobile apps utilized by successful SMEs to streamline their sales processes, allowing professionals to spend more time engaging with customers.
"Purpose-built apps like SAP Business One Sales seamlessly extend key ERP capabilities to the point of customer engagement, the result being sustained agility and competitiveness."
Conclusion
SAP recognises that mobile is a must have for any ERP solution but this latest app seems limited in its accessibility especially for existing on-premises clients. What this delivers is a carrot for those customers to come calling and request a migration to a newer version. Whether it is enough remains to be seen.
What SAP will hope is that there is more engagement on the iTunes store for this new app. Since 2010 there have been no reviews posted on the UK store at least and if reviews are a measure of success then the original app has failed miserably.
While Apple devices may be more popular with the fashion conscious salespeople it is surprising that SAP has not also delivered an Android app as well. For Microsoft this will be another blow to its mobile strategy, if they had managed to persuade SAP to deploy an app for Microsoft mobile devices they may have increased the possibility of improving their penetration of the business market.