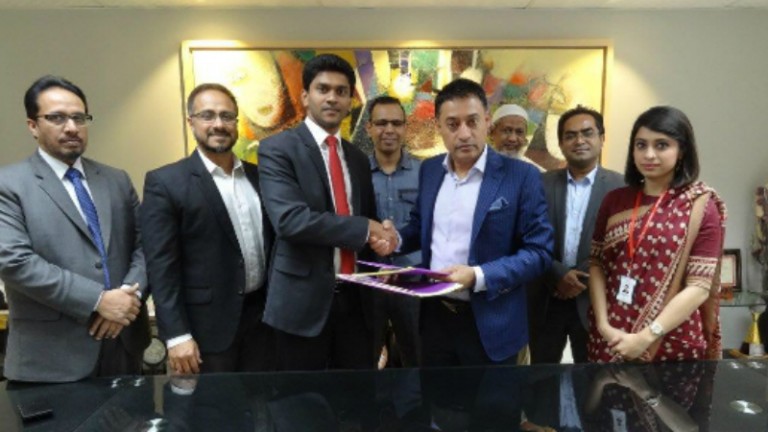 IFS has announced a new customer in Bangladesh, Hamid Fabrics Ltd a leading textile manufacturer. They have chosen to implement the latest version of software from the Swedish based ERP company IFS Applications 9. The last customer win for IFS in Bangladesh came almost exactly a year ago with automobile manufacturer Runner.
The software will be installed across all the sites used by the company including its head office and two factories. The implementation will use modules from several IFS pillars including manufacturing, maintenance, finance and distribution. IFS Lobby will be used as the front end for most of the users delivering rapid insights into their business.
While the specific KPI's are not available it is clear that Hamid Fabrics are looking for the IFS solution to help expand their output of a weaving capacity of 10 million yards per annum and a dyeing and finishing capacity of 30 million yards per annum.
Hamid Fabrics Ltd is one of the largest textile manufacturers in the country and this is an important investment for them looking forward. Mr. Abdullah Al Mahmud, Managing Director, Hamid Fabrics Pvt Ltd commented: "Hamid Fabrics has since its inception in 1996 grown to be the largest textile supplier to Bangladesh's apparel industry.
"We have made strategic investments in cutting-edge machinery and textile manufacturing technologies, which have helped us achieve this status within a relatively short time. Investing in a world-class ERP solution such as IFS Applications is the next step in this journey. IFS has the level of sophistication that we require for our vast, diverse, and complex manufacturing operations and we look forward to a speedy and efficient implementation."
IFS expansion in Bangladesh continues
Since first opening the office in Dakar during 2012, IFS has seen a steady growth of customers. It now counts several well known brands from the country including Singer Bangladesh Ltd, Lal Teer Seeds Ltd, Bangla Trac Limited and Jamuna bank as customers. Hamid Fabrics is another addition to the growing list as it seeks to capture a solid market share in the country.
IFS should be able to maintain its growth in the country where only 0.3% of the population has access to the Internet and the government still imposes a tariff on internet usage. Until connectivity in Bangladesh improves it is unlikely that born-in-the-cloud companies will want to or be able to compete with companies like IFS in this area. This country and several others are a market niche that IFS can capitalise on as their competitors increasingly rely on cloud solutions.
Conclusion
While IFS are regularly announcing customer wins, few of them are on the cloud which is where many enterprises are looking to move. There is still a market out there for another generation of on-premises ERP solutions and this is where IFS is continuing to grow. As the recent win of Turner Group shows these are not all in countries as far away as Bangladesh, but as IFS increases its presence in the Far East from its base in Sri Lanka where it has over 700 employees it might just see the growth it craves from these markets.
IFS Bangladesh managing director Mr. Asanga Marasinghe commented: "IFS Bangladesh has had a great start to 2016, counting both this strategically important customer win and a major expansion of our Dhaka liaison office. We are very excited to add Hamid Fabrics to our growing customer list that includes some of Bangladesh's best-known brands. We look forward to building a lasting and mutually beneficial relationship with the group."