IBM has acquired Ustream as it sets out its stall to take on both Amazon and Netflix for cloud video market. The acquisition will be merged with three other IBM acquisitions, Clearleap, Cleversafe and Aspera as part of the IBM Cloud Video Services unit. The goal is to grab a big chunk of a market that IBM reckons will be worth $105 billion by 2019. It's an ambitious goal but the companies involved should give IBM a real shot at this.
Unlike previous announcements of new units, this one does not come with a multi-billion dollar piggy bank. Instead, IBM has handed it a patent book of over 1,000 patents which it should be able to license out to cover any costs it encounters. At the same time IBM is providing the entire infrastructure on which everything will run.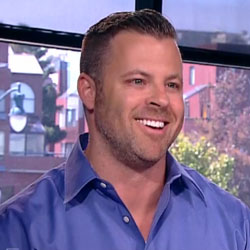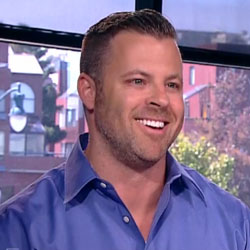 "Video is the most powerful and emotional medium," said Brad Hunstable, CEO, Ustream. "Increasingly it is becoming the favoured form of communication, not just for entertainment, but also for business. We've built a video platform that is easy-to-use, yet incredibly scalable, secure and powerful and it is these qualities that made us an ideal addition to IBM's portfolio."
Besides the patents, the unit should be pretty cash rich right out of the gate. This is because Ustream delivers live and on-demand video to over 80 million viewers per month. Other numbers disclosed by Brad Hunstable, CEO, Ustream in a call to analysts included 1.3 million broadcasts per month, 20 million API requests per day and over 5,300 customers. Those customers delivering content include the likes of The Discovery Channel, HBO, NFL, Samsung, Nike, Facebook and NASA, according to the press release.
The new unit will be run by Braxton Jarratt who came with the Clearleap acquisition. The appointment of Jarratt is in line with other moves by IBM over recent years where it makes a series of acquisitions that are not just about technology and patents but about gaining new leadership skills. IBM will no doubt be hoping that Jarratt can deliver the same level of success in cloud video services as Brenden Hannigan deliver for IBM Security.
Using SoftLayer and Bluemix as a cloud foundation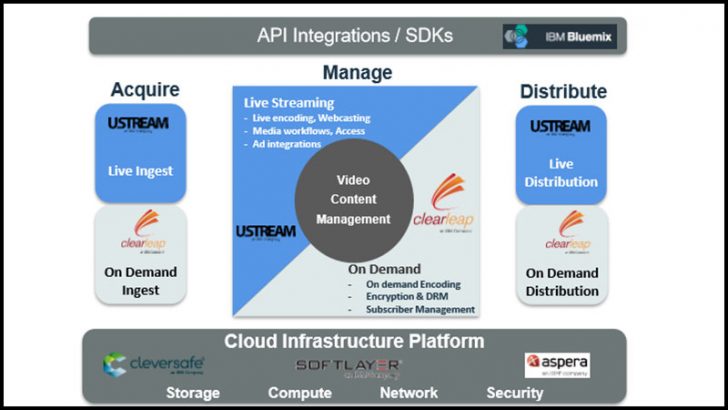 Underpinning this will be IBM SoftLayer as the cloud platform. Whether this will be x86 or POWER8 is so far not being disclosed. What is known is that this will be based on bare-metal servers to get the maximum performance and will use other IBM technology to speed up data into and out of the cloud.
IBM Bluemix Platform as a Service (PaaS) will be the development platform of choice. Clearleap is already moving all of its own API's onto Bluemix and the Ustream API's will follow soon. Whether we will see Bluemix replace the existing Ustream Developer Platform is yet to be decided but it is likely that customers will be able to access both for some time to come.
There is also a deeper analytics play here. IBM has been positioning its analytics tools as being able to deliver insights into all the data inside an enterprise. Yet according to IBM, 80% of the data inside companies is still seen as being Dark Data that is not yet machine readable by computers. It claims in the press release that this new unit will enable it to take a significant jump into that 80% and provide the ability to do detailed video analysis.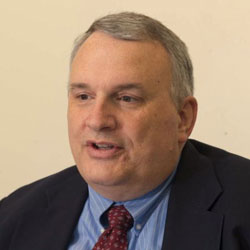 John R Thompson, Vice President, IBM Cloud when talking about why create a cloud video company said: "We decided that born on the cloud and these existing cloud-based companies should live in their own cloud." To that end, IBM has provided them with their own cloud infrastructure based on its own technologies.
With everything sitting on IBM SoftLayer and using Bluemix as the development tool it brings other IBM cloud technologies into play. The most obvious one here is IBM Watson although IBM has not announced any new analytics libraries devoted to video yet. However, the cognitive learning ability of Watson means that IBM will be hoping to upsell its new cloud video services unit to existing Watson customers.
<Next: Film, gaming and a battle with Amazon and Netflix?>