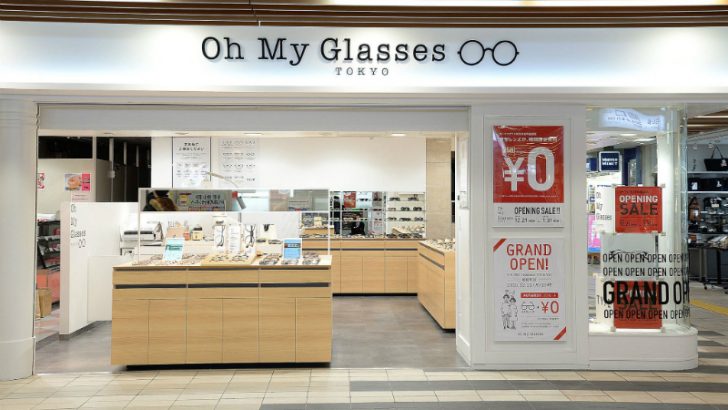 Oh My Glasses (OMG) was founded in 2012 with an ecommerce platform that enables Japanese to purchase glasses on line for the first time. They have since grown successfully and deployed NetSuite in August 2015  to replace their aging home grown accounting solution and FileMaker with a product that would meet their current and future needs.
OMG has raised $11 million in a series B funding round led by Innovation Network Corporation of Japan and Nissay Capital. This helped finance their growth including the first retail store which opened in Tokyo, the Shibuya Loft Shop in 2014. They have just announced and opened their second shop on the second floor of the Hamamatsucho monorail building in Tokyo as well.
The company is founded on three simple tenets. They provide glasses designed for the Japanese people so that they fit comfortably. The glasses are made to a high quality and made in Japan at the Fukui Prefecture Sabae factory. The third tenet is that the glasses are affordable.
OMG also offer designer glasses from other labels as well such as Ray-Ban, Tom Ford, Oakley, Gucci and Paul Smith. Using the e-commerce site which was developed in house customers can select five pairs of glasses to try out and have five days in which to try them, before returning those they do not want.
Before selecting NetSuite OMG looked at SAP and OBIC, a Japanese based company that offers OBIC7 series ERP software. OMG decided that the born-in-the-cloud solution provided by NetSuite would provide their needs and the integration API's that were required to interface with their own eCommerce suite. OMG uses RESTful APIs to integrate the ecommerce purchase data with NetSuite. OMG has implemented accounting, inventory management, order management, purchasing and customer relationship management (CRM) to replace their legacy systems and deliver enhancements that will allow them to grow their business going forward.
OMG CEO Mr. Kiyokawa commented: "In addition to online orders, our store and wholesale businesses have really taken off. By the first half of 2014, we urgently needed to rebuild our mission-critical systems to support the diversification of our sales channels. Our next-generation business model integrated our sales and distribution channels across our online sites and brick-and-mortar stores so that any individual product can be purchased from any sales channel at the same price.
"We concluded that NetSuite had the only real-time cloud platform that could help us achieve our omnichannel commerce objectives."
The solution was deployed by NetSuite Professional Services over the course of nine months. This may seem a long time for a solution that is only being used by 17 users but the integration with the existing system will have taken time. OMG are already the largest company in the ecommerce glasses market and with their recent store openings are starting to make further in roads into the more traditional retail store market as well.
This caution to ensure that their new solution did not impact their business meant that they completed a two month parallel run before going fully live. For a company that relies on the ecommerce platform, and the integration back to its ERP solution this was probably wise. Incurring a small cost in order to reduce the business risk is sometimes worth doing.
While this is a small customer in terms of footprint for NetSuite, it is a brand that is well known in Japan. That they have implemented a complex integration should give other companies the belief that they can deliver complex integrated solutions. The implementation has provided OMG with the visibility into their sales and inventory across its ecommerce, retail and wholesale distribution channels that was previously missing. With the real time insight into its inventory OMG is now able to offer products across all channels at a single price.  This is critical in a fast moving market as it can adjust prices based on several factors.
This is a strategic decision made by OMG that others would not always make. Retail stores traditionally have a higher cost of sales than ecommerce brands and while some stores are looking to promote customer service add-ons at a premium prices this does not appear to be the case with OMG. It will be interesting to see whether this strategy continues.
Besides the cloud architecture that NetSuite provides OMG are also looking to expand and opening their second store was one step on this road. Their intention is to provide glasses to customers whenever and wherever they want. It will be interesting to see whether they bring the model to other countries.
The other direction is whether they will work with NetSuite in the future to move to the NetSuite ecommerce platform away from their current internally developed and expensive ecommerce platform. While they have a key advantage over their competitors though with their dedicated and unique site this seems unlikely.
Conclusion
Oh My Glasses wanted to select a true cloud-based solution. While NetSuite do not yet have a data centre in Asia, they did increase their presence in the area opening a new headquarters in Singapore earlier this year. It will be interesting to see when they believe they have enough customers in Asia to justify the announcement of a data centre in the region, possibly in Japan.
The NetSuite implementation has been a success for OMG. They have steadily increased their membership numbers and have over half a million unique website visitors every month. They needed to replace their legacy systems and in finding NetSuite appear to have chosen a partner they feel confident will grow with them.
NetSuite have made several customer win announcements this year, many of these have been smaller start-ups. What is interesting about OMG is that they have proven they can migrate from legacy systems, integrate with other platforms and go live in a reasonable time scale.
NetSuite industry watchers will want to see larger wins that brings not just the services revenues for complex implementations by also ongoing SaaS revenues that will see the future of the company grow. As SAP and Oracle develop their ERP cloud solutions further there is a point in time where winning customers from legacy solutions will become harder. NetSuite need to capitalize on this window and accelerate their growth.