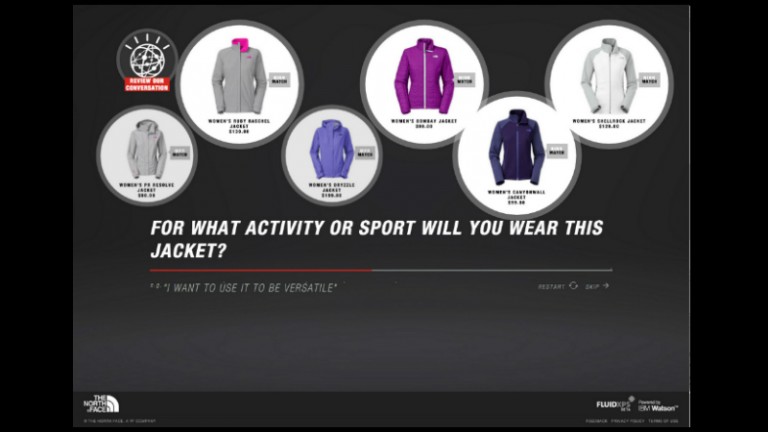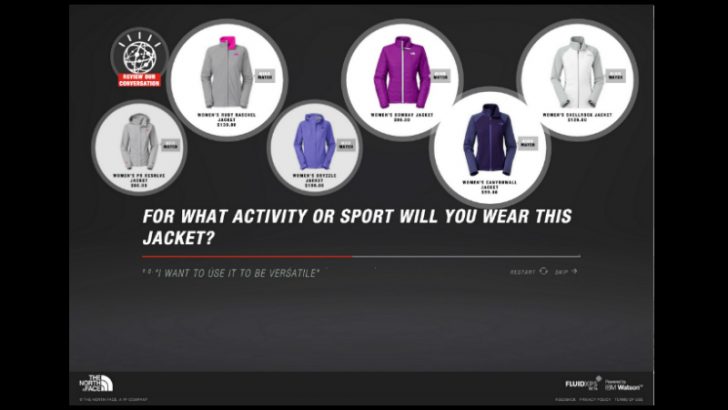 The North Face ® is a global brand founded in 1966 whose mission is to build the best gear for the outdoors, supporting the preservation of wild places, and inspiring a global movement of outdoor exploration. They have worked with IBM and Fluid to deliver a personalised experience ensuring customers receive personalised outerwear recommendations tailored to their specific needs.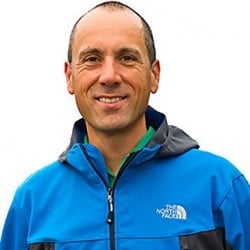 The Fluid Expert Personal Shopper (XPS) uses the IBM Watson natural language processing ability to create a personalised experience for shoppers. The process takes the customer through a few basic questions, at present the service is in beta and only seems to cover jackets but one suspects that this will be extended over the coming weeks.
When we tried the interface it recognised the location and time of year we specified to deliver a range of suitable jackets, further specific questions narrowed down the search to find the ultimate North Face® jacket best suited to our experience. Todd Spaletto, President, The North Face said: "At The North Face our mission is to inspire a global movement of outdoor exploration.
"By tapping into the power of IBM's Watson, we can ensure our customers get the best jacket for the activities they love, whether that's ice climbing in Montana or skiing in Vermont. This not only improves their online shopping experience, it ultimately maximizes their outdoor experience."
The Fluid CPS solution is built on North Face's IBM ecommerce platform. Over the last few weeks it has delivered improved performance in key metrics such as click through and procurement, achiving a two minute shopping engagement on average and a click through rate of 60%.
XPS is a new force on the ecommerce battleground
While Watson may be delivering a next generation of shopping experiences IBM are not the only player in what is a fiercely competitive market. Netsuite launched SuiteCommerce and MysteryRanch is just one of the brands using that platform. Infor are also investing in the sector with Cloudsuite Retail due to be launched in 2016. While neither of these platforms have the same natural language capability as Fluid's XPS they are pushing the boundaries of customer engagement with their designs and interface.
The trick for IBM and Fluid is to find the brands best suited to this type of engagement and to improve the scope of the XPS solution. While the final capabilities of XPS are exciting, the ability to just inform the ecommerce platform about a future need and to receive a shopping list of suitable items is, one feels, still some way off.
Kent Deverell, CEO of Fluid sees IBM Watson delivering an advantage in this market saying: "Digital retail continues to transform the way we shop, and embedding cognitive technologies is the next major step in engaging customers.
"By tapping into Watson, XPS aims to provide The North Face shoppers helpful, relevant and intuitive product recommendations. We believe this kind of engaging, personalized interactive experience will become the norm for online shoppers in years to come."
Conclusion
The North Face® ecommerce platform is worth a look for those interested in the future of retail. While those looking for North Face boots may be disappointed by the response: "I'm afraid Watson hasn't yet been trained for boots, but check out the selection at Northface.com…" the potential for something revolutionary is there.
Stephen Gold, IBM Watson VP Business Development & Partner Program summarises the current situation saying: "The retail industry, like many others, is awash in structured and unstructured data — from social media to text messages to customer reviews. By tapping into Watson, retailers now have the power to turn this data into meaningful insights that can make the shopping experience more intuitive, informed and enjoyable.
 "Market leaders like The North Face and Fluid are demonstrating how cognitive technologies can redefine how brands connect and engage customers."
The big question for IBM will be whether the advantage of cognitive computing is significantly greater than the intuitive interfaces that are currently being created by other competitors. IBM has made a huge investment in Watson and needs to recoup some of that. If the North Face solution had been more comprehensive at launch then this might have been more impressive. If this is merely a template that is being perfected though and can be rolled out quickly across other ranges at North Face® and other retailers in turn then IBM might actually be starting to recover their investment.
The North Face® is part of the VF Corporation that includes other brands such as Wrangler and Timberland, Timberland especially might benefit from a similar implementations of XPS and it will be interesting to see whether Fluid and IBM can deliver the XPS solution across the whole portfolio.