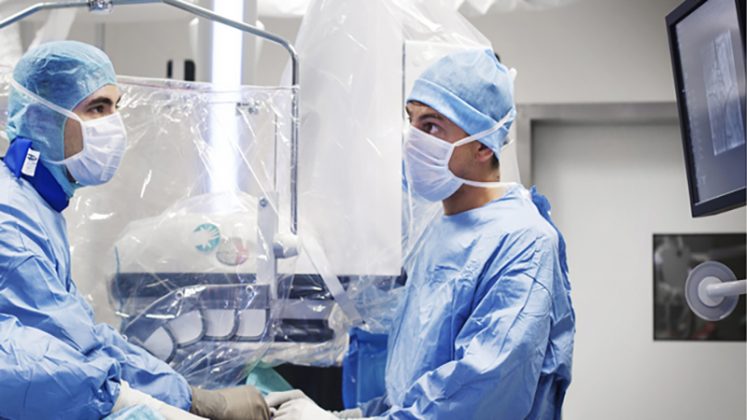 GE Healthcare has announced its plan to connect 500,000 imaging machines and launch a new range of apps as part of the GE Health Cloud.
The announcement comes just days after Dell and Telstra have announced their own solutions for healthcare cloud aimed at improving access to image data. The increased use of imaging for a wide range of medical investigations has increased over recent years and this has meant in some countries there is a significant shortage of skilled radiologists.
UK has a severe shortage of radiologists while US has a glut
In 2013 the UK NHS said it had around 8% of all radiologist posts unfilled. By 2015, BMJ Careers reported that Radiology was one of three posts that was put on the national shortage lists. This shortage of clinical radiology consultants has led to some recruitment from within the EU and the General Medical Council (GMC) providing evidence of a viable source of consultants from wider afield.
One of those place is likely to be the US where Diagnostic Imaging reported earlier this year that there was an oversaturation of radiologists in the market. In its article it even quotes one job company who reported that they when sent out a direct mail advertisement for radiology jobs they get a 10% response rate compared to just 1% for physicians.
An imaging cloud should help reduce wait times
One of the goals of an imaging cloud will be to speed up access to images. According to the GE press release up to 35% of patient cases are misdiagnosed (Source:  "Types and Origins of Diagnostic Errors in Primary Care Settings," Journal of American Medicine, 2013). By making it easier for radiologists and clinicians to view and consult on images it is hoped that this number can be significantly reduced.
What is surprising is the lack of investment in this area from medical insurers. After all with the number of misdiagnoses that high it will have had an impact on the cost of medical litigation. With GE joining Dell and Telstra in launching an image cloud it may well be that medical insurers will now begin to investigate the potential impact of imaging clouds even going so far as to require their use to reduce risk.
Jeff Immelt, Chairman and CEO of GE said: "Our ultimate goal is to help improve patient care and drive superior clinical, financial and operational outcomes alongside healthcare providers. As the digital industrial leader, we are betting big on the GE Health Cloud. By connecting clinicians with the insights needed, when and where they need them, clinicians can take action to improve healthcare outcomes and delivery around the globe."
With 500,000 machines to be connected into the GE Health Cloud this really can be seen as a global solution. The timing of the announcement alongside a major medical conference means that it is not GE reacting to Dell and Telstra but perhaps suggests that they needed to get their story out there before GE.
Apps are the key to effectiveness
In its release., Dell focused on the impact of new analytics that could be brought to bear on images and the use of images as a research tool. GE has taken a similar line by announcing that it will open its cloud for third party app development, something that is likely to appeal to companies such as Zebra Medical Vision who are also partners in the Dell Services announcement.
Earlier this year GE announced its Minds + Machines program to transform the business. As part of that, Immelt told the audience that GE had identified data that showed a potential 20% increase in performance due to software and products running on Predix, the GE cloud platform. The GE Health Cloud is the first industry-specific cloud to be based on Predix. As such, GE believes that it will be able to show a better improvement in performance than other competitors in the market.
GE is also launching its own range of new apps for advanced imaging and clinical collaboration. The press release lists four apps and makes specific claims for each:
CentricityTM Cloud Advanced Visualization –This app will manage image post-processing and allow radiologists and clinicians to view advanced 3-D images anytime, anywhere.
Centricity Multi-Disciplinary Team Virtual Meeting – This app will help multidisciplinary teams do collaborative care planning, ultimately helping radiologists and pathologists reduce the time they spend preparing for meetings by up to 20 percent.
Centricity Case Exchange – This latest edition of Centricity Case Exchange will allow affiliated and non-affiliated systems to share images and reports and quickly confer on patient cases and treatment plans.
Centricity Image Access Portal – This app will provide affiliated and non-affiliated physicians with longitudinal patient imaging data, potentially improving turnaround times for patient reports.
What will be interesting will be the speed with which GE can bring new developers onto its cloud. The press release gave no mention of partners with applications on the GE Health Cloud at launch. This is surprising as most vendors ensure that they have secured some third-party engagement before launch and use it as proof of the "openness" of the platform.
Moving away form CAPEX to OPEX
Unsurprisingly GE has brought up the significant cost saving of moving to a cloud-based platform and played the OPEX card. While money is a key element for cloud they haven't bothered to put any costs into the announcement. For example, are they expecting hospitals and other medical facilities to reduce their spend on imaging machines? Is this about saving on staff costs? It is all very unclear.
What many will want to see is evidence of where the saving will take place and how they will be able to sell this to their hospital boards. Imaging machines are hugely expensive but they will still need to be purchased even if the images are to be used elsewhere.
There is already a thriving market in the medical imaging space where third-parties are purchasing machines and then selling their time to hospitals and private health clinics. A cloud won't reduce that cost all it will do is speed up access to the data by making it immediately available.
A need for imaging cloud interoperability
With three big announcements in such a short space of time it opens up the question of interoperability between cloud platforms. The amount of data required by images is large and it is unlikely that anyone is going to want to support multiple cloud platforms from their machines. This means that the various companies involved in this market have to work out how and when they will offer an open data sharing agreement around their imaging clouds.
This is also a question that will be asked by clinicians at the sharp end of the data. They will not want to be moving between multiple apps nor will hospitals want to be purchasing multiple viewing applications. In the Dell and Telstra announcements they both talked about using vendor-neutral imaging formats. GE has not chosen to talk about that in its release raising questions as to what formats it will support.
To allay these concerns, GE has announced that the GE Health Cloud will take advantage of a number of key healthcare standards. This includes FHIR, HL7 and DICOM. It will also meet HIPAA requirements and meet security standards such as HITECH and HITRUST while also achieving SOC2 certification.
Conclusion
This is yet more evidence that there is a huge interest in healthcare among cloud companies and those with specialist solutions. Anything that improves patient healthcare is to be welcomes but only where it really does reduce costs which cloud should do.
We wait to see when GE will begin to announce the first wave of third-party apps on its GE Health Cloud platform and what those applications deliver. It will also be important to hear GE talk about imaging cloud interoperability as both the Dell and Telstra deals will have included facilities with GE imaging technology. The one thing nobody wants to see is GE use this as a protection mechanism to lock out other cloud providers.