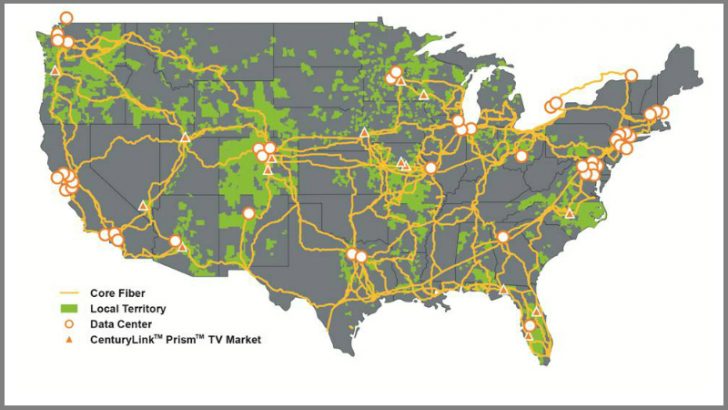 CenturyLink and Cogent have announced a long-term bilateral agreement for the sharing of their public IP networks. This will allow traffic over their wide area networks to be balanced between them if there is a surge of traffic on a particular link.
Cogent is the smaller partner in the deal but does have some significant cabling through some of its acquisitions in regions where CenturyLink is weaker, notably France. The Cogent network is made up of over 80,000 miles of fibre of which 28,000 miles are within 620 different metropolitan rings. The CenturyLink network has over 550,000 miles of network, of which 250,000 is US based.
In bringing the two networks together the companies will be help improve their internet connectivity for customers,but one cannot help think that this may evolve into a deeper relationship between the two companies such as the one CenturyLink recently signed with CyrusOne. With Equinix regularly announcing more interconnection agreements and MegaPort potentially disrupting the market one wonders why this agreement didn't deliver something greater.
The announcement did not include details of how many interconnections there would be between the two networks and it is not known how many of Cogent's 55 data centres are already connected to CenturyLink. Cogent operates 51 data centres of which 27 are in the US, 1 in Canada and the rest in Europe.
With the growth of tablet and mobile displaying and the increasing use of video and TV on demand the need to maintain a quality of service over the internet is becoming an increasing challenge for ISP's. In peak demand periods, especially for CenturyLink with its extensive residential portfolio the agreement allows them to avoid congestion on some of their links during peak watching times. For Cogent it allows them to leverage the more expansive CenturyLink network for their customers.
Conclusion
While this is not an agreement that delivers an interconnectivity for enterprise private networks between the two companies data centres it may become the first step in them working together towards that goal. This may be some way off as CenturyLink would probably need to complete their SDN rollout, due to be completed by the end of 2018.
What will be interesting to see is whether this agreement develops into something wider and where these two companies form the interconnections. Both companies and their customers stand to benefit from the agreement and while the announcement says that the exchange of Internet traffic will be done in a "balanced, scalable and mutually economical manner" one wonders how they will achieve this.