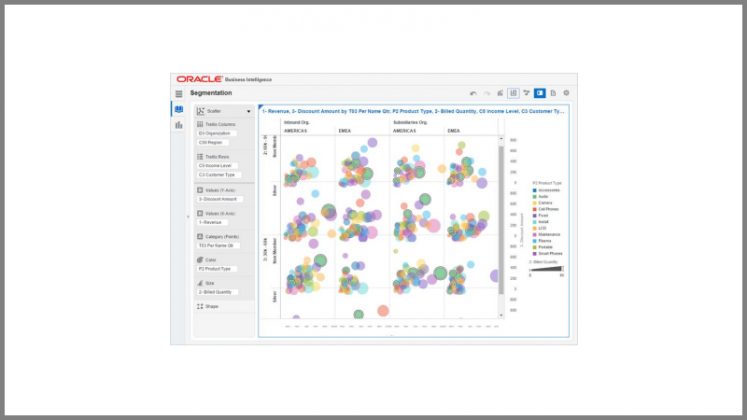 Oracle has announced the general availability of its BI (Business Intelligence) platform with the release of BI 12c, declaring that it is a 'simple and robust' upgrade from version 11g. This is a major release for Oracle and one they claim delivers far more than any other analytics platform. This is perhaps a rather typical, bullish statement from Oracle but indicates how far 12c has come from the previous version.

The new release delivers integration with both on-premises and cloud-based Oracle analytics solutions and data, including data that is personal, departmental or enterprise centric. Visual analytics are delivered quickly using in-memory databases and with self-service visual analytics on multiple device formats.
Hari Sankar, group vice president, Business Analytics, Oracle said: "Our customers recognize that making informed decisions at the speed of today's business requires a no-compromise analytics platform – one that empowers people with visual analytics, without compromising scale and reliability.
"Oracle BI 12c provides an enterprise-class visual analytics platform with everything customers need — rich visual analytics and extreme performance, with simplified administration and governance."
Easier to Use
Several features in the new release are aimed at reducing administration overhead and improving the usability of the BI platform. The process to upgrade from the previous version is straightforward with a free tool that automates regression testing. The baseline validation tool verifies data, visual analytics, catalogue object metadata and system generated SQL ensuring that configurations can be seamlessly migrated to the latest release.
BI 12c can also take advantage of multiple in-memory data stores. Adding Essbase on Exalytics delivers both concurrency and scalability with performance gains that Oracle claim are significant. These gains are to be fair hard to quantify as they will vary by use case.
Administration has also been reduced including simpler security; backup interface and the ability to hot patch metadata. Oracle claim this streamlined administration and lifecycle management leads to a lower a lower total cost of ownership though one wonders how significant this is.
Justifying a higher return on investment based on simpler administration does not make a good business case, but, in delivering new functionality and an improved user experience is where Oracle should be claiming that users will see a better return on their investment when they upgrade.
(Next: Improved User Experience)