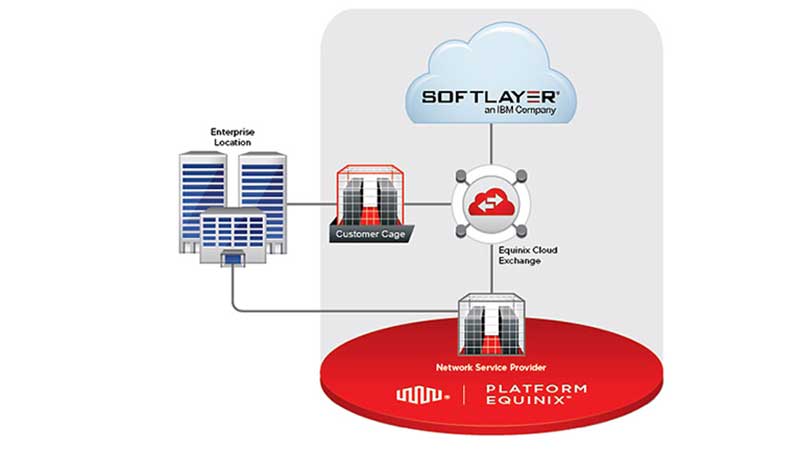 SoftLayer and Equinix to integrate SoftLayer Direct Link and Equinix Cloud Exchange to support enterprise hybrid clouds.
This is the second big announcement by SoftLayer as it looks to extend its reach into the enterprise space with hybrid cloud. Last week it announced a deal with VMware that to enable VMware users to take advantage of SoftLayer as part of their hybrid cloud. As SoftLayer is late into this market pricing policy will demonstrate how serious this move is..
When asked what the pricing would be as it is not in the press release Jack Beech, VP Business Development, SoftLayer said: "The pricing for vSphere and vCenter will be $85 per processor per month." This is pretty aggressive pricing and shows an intent by IBM SoftLayer to grab as big a market share as they can.
SoftLayer and Equinix
Today's announcement deals with one of the key challenges in the VMware announcement, how to get customers onto SoftLayer. Beech said that IBM would be looking to increase its sales of IBM Direct Link in order to provide a secure, low-latency access for customers to SoftLayer.
In a blog from Richard Carrara, Enterprise Architect at Equinix, he talks about the opportunity of integrating IBM Direct Link with Equinix Cloud Exchange: "The marriage of SoftLayer's Direct Link private networking capabilities with the Equinix Cloud Exchange allows enterprises to avoid the variable performance of the public Internet and maximize the throughput and predictability of their cloud applications. Infrastructure scaling, data replication, and back-up and recovery all perform better with direct networking between IBM SoftLayer Direct Link and the Equinix Cloud Exchange."
The speed of the virtual connection that SoftLayer customers can now expect, according to Carrara will include 200Mbps, 500Mbps, 1Gbps and 10Gbps. As with other types of cloud resources, Carrara says: "Virtual connections can be increased or decreased as needed. That makes access to the cloud both efficient and cost-effective."
What do Equinix customers want from SoftLayer?
Equinix and SoftLayer are no strangers to working together. In the build up to this announcement, Carrara said that Equinix spoke to 85 of their customers who shared what they wanted from their SoftLayer cloud deployments. These use cases include:
Hosted Enterprise Private Clouds
High-Performance Computing (HPC)
Big Data, Analytics, Database Services and Archive
Social Business
Mobile
Dev Ops
Web Applications / E-Commerce
These are not the only requirements identified but they all share common issues such as high i/o density, improved Quality of Experience (QoE), load balancing and high availability.
Equinix extends its starter kits to include SoftLayer
Over the last year Equinix has been working hard to make it easier for customers to connect to third-party cloud infrastructures. It already has packages for customers who want to connect to SoftLayer but it is now adding a new starter kit to simplify the process. This starter kit approach is also something that Equinix is offering to customers who want to get onto Microsoft Azure.
It will be interesting to see how far Equinix go in terms of adding started kits for other clouds such as HP Helion, Rackspace, AWS or Google. It will also be interesting to see how much take-up of IBM SoftLayer Direct Link this deal creates. Beech accepts that the lack of marketing has slowed the take-up but says that SoftLayer has been more Direct Link deals than it expected.
Both parties will be hoping that this deal increases that. For those enterprise customers using VMware that IBM is now targeting, access to Direct Link via Equinix Cloud Exchange and the speeds available will be attractive. The question now is how fast can SoftLayer convert interest into sales and use this deal to not only increase its share of the enterprise VMware market but also increase it share of the wider enterprise cloud market, especially the growing hybrid cloud.
Conclusion
This is an interesting announcement by both parties. As enterprise customers begin to explore the potential for hybrid clouds for production applications they are concerned about security of data in transit and speed. This deal should help both parties bring in more customers by providing private secure high-speed connections. All we can do now is watch and see how effective the deal is in delivering business for both parties.
If it is successful then we should see a rash of announcements from both vendors. SoftLayer will look at other infrastructure partners and see what deals it can do. Equinix will likewise look at other cloud providers with whom it has arrangement and look to extend its Cloud Exchange and capture more traffic
Meanwhile other cloud providers such as Rackspace, HP and many of the mid-sized cloud providers will be watching carefully to see what benefits this delivers for Equinix and SoftLayer before they make their own moves. A successful project will mean that they will also be looking at this type of solution which can only be good for enterprise customers of all sizes as they plan their hybrid cloud strategies.