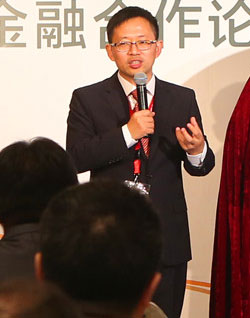 Huawei partners with eleven leading banking and IT solution providers to establish an open platform ecosystem for the finance industry.
The announcement was made at the Huawei Global Finance Service Industry (FSI) Summit in Beijing, China. The partner list is quite impressive and includes Accenture (China) Co. Ltd, Beijing Advanced Digital Technology (ADTEC) Co. Ltd, Beijing Yucheng Technologies Co. Ltd, Beiming Software Co. Ltd, DHC Software Co. Ltd, Deloitte Business Advisory Services Limited, Digital China System Integration Service Company Limited, First Data Corporation, Infosys Technologies Company Limited, Micro Focus Corporation, and Worldline Technologies Company Limited.
According to a statement by David He, President, Marketing and Solution Sales, Enterprise Business Group, Huawei, said, "In line with Huawei's Business-Driven ICT Infrastructure (BDII) guiding principle, the new ecosystem is designed to address the IT transformation needs of financial organizations.
"The new ecosystem promotes BDII within the financial industry by enabling our partners to focus on their core competencies. For example, consulting firms, application vendors, and system integrators will be able to leverage their in-depth understanding and practical experience around industry applications, while Huawei, as a hardware platform provider, will focus on ICT infrastructure."
Huawei looking at more than just an infrastructure play
At first glance He's statement makes this appear to be predominately an ICT play by Huawei with a grouping of companies rather than a platform solution that can be deployed as a service. If that were really the case, this would be disappointing, especially as Huawei has made up a lot of ground on other companies with its own cloud solutions in the last seven months.
Reading further down the press release it becomes clear that a significant part of this is aimed at moving finance and banking clients away from proprietary infrastructure. It is interesting that Huawei still views finance and banking as being heavily dependent on closed environments. Talk to many of the big hardware and chip vendors such as Intel and they talk about the amount of commodity computing and private cloud solutions currently deployed in this vertical market.
What Huawei may be referring to is the resurgence of the mainframe especially the next generation of mainframes that IBM has been bringing to market over the last three years. Finance and banking institutions still use mainframes because they are ideal platforms for Online Transaction Processing (OLTP). They are also platforms that achieve much high utilisation rates, typically 90%+ compared to the 50-60% that the best commodity computing platforms deliver.
Add to this the fact that IBM has slashed the pricing of its mainframes to less than the cost of a rack of Blade Systems and it is easy to see why finance and banking have continued to invest in technology that they understand.
For its part, Huawei has been building out its converged infrastructure solutions based on Intel Xeon chips. Over the last few years this has paid off with Huawei collecting a fair number of industry benchmark records. Some of those records have come with ICT appliances such as those Huawei has developed with partners such as SAP.
A cloud of cloud
What becomes clear from this release is that Huawei is looking at a number of different cloud-based solutions that could well be seen as a modular cloud. For example the release talks about: "an online banking cloud (based on private cloud architecture for finance), a credit loan cloud, a direct banking cloud, a micro-and-small-loan service cloud, a core account cloud, a credit card core application cloud, as well as mobile teller and home banking capabilities."
According to the release some of these are already in use by the Spanish stock market and financial systems operator Bolsas y Mercados Españoles (BME).
As interesting as this sounds there is a lot of detailed information missing. For example, is this all based on a single Platform as a Service (PaaS)? If so, which PaaS and who is going to be responsible for delivering and maintaining it.
If there is no PaaS and this is simply a collaboration of different cloud solutions, how will they all connect together? Are they sharing a set of open APIs? If not, how easy will this be for new partners and entrants to get involved in the ecosystem?
Conclusion
Huawei has been aggressively building out its ICT business over the last few years. Huawei Enterprise is now a multi-billion dollar company with double-digit year on year growth, something other hardware vendors can only look at with envy.
This move into being a platform provider looks interesting and if successful should also deliver good revenue for the company. However, at the moment there are more questions than answers and a lack of information available about the mechanics.
What is needed now is for Huawei to provide more information on the underlying platform, how people get involved and what API's are being used along with who will own and curate the API's. It will also be important for Huawei to show how it intends to deliver an architecture that will replace the OLTP systems such as mainframes with commodity solutions delivering the same level of security, reliability, cost and asset utilisation.