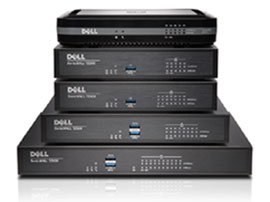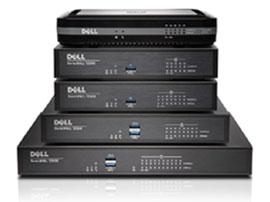 Dell has announced the next generation of its SonicWALL TZ wireless firewalls with a much improved feature set over previous generations.
Wireless is now an integral part of delivering network connectivity for most enterprises. While most of that is to support the large number of devices that users bring into the business, many companies are beginning to create visitor wireless zones as well. In doing so, they need to think carefully about what visitors can do when connected to the network.
SonicWALL TZ wireless firewalls now enterprise grade
Back in April, Dell upgraded its non wireless version of the SonicWALL TZ range with new multi-core processors capable of doing in-line deep packet inspection of encrypted traffic. It also added faster WAN ports so that customers could take advantage of new speeds from their broadband providers.
Those features have now been added to the SonicWALL TZ wireless family along with a much improved wireless performance. While Wi-Fi routers have increasingly had firewall and security features added to them, Dell SonicWALL has gone the other way and added Wi-Fi to their security device. With Wi-Fi routers getting security features, performance gets compromised as the router struggles to manage the complexity and processing requirements of enterprise-grade security.
As well as security built-in, Dell is also able to overcome the performance degradation that Wi-Fi routers suffer. In this latest generation of SonicWALL TZ wireless firewalls Dell has added support for the 802.11ac standard which outperforms the more common 802.11n standard used by most Wi-Fi routers.
Dell is claiming five key benefits for its new devices:
Exceptional security that keeps the network safe from sophisticated modern threats with highly effective anti-malware, intrusion prevention and a proven security architecture. Attain a higher level of security with deep packet inspection on all traffic – including encrypted SSL connections.
Deep packet inspection to scrub traffic using an array of intrusion prevention, SSL decryption and inspection, application control, and content filtering technologies, all of which provide broad protection from unwanted intrusions, corrupt websites, and hidden malware. The Dell SonicWALL TZ600 features 67 percent faster DPI performance than the Fortinet FG-100D firewall[1].
The flexibility and scalability to deliver secure, high-speed 802.11ac wireless connectivity wherever it is needed. Integrated wireless can be used for those who work in close proximity to the firewall, or for larger deployments, multiple external Dell SonicPoint wireless access points can be added to increase the number of users and devices that can connect to the wireless LAN as needed.
Inspection of files at line speed without limits on file size. Using the latest technologies, Dell's wireless solution uses the new 802.11ac standard to deliver up to three times the speed of competitive 802.11n solutions. This enables wireless to become transparent to the user because waiting for files to download is not an issue.
Impressively low TCO with a user-friendly GUI to drive down costs by simplifying deployment and ongoing management.
Dell looking to make security easier and more comprehensive
One of the major challenges for SME's deploying firewalls is often a lack of detailed understanding around how to properly configure them. According to Florian Malecki, EMEA Product and Solution Marketing Director, Dell Software: "One thing we've introduced is a new setup wizard. For the SMB it might be the reseller deploying the firewall or they may have bought online. We've made it easy for them to setup and configure themselves. The new wizard means anyone could deploy our firewall with standard rules."
This simplicity is to be welcomed. One area where customers often misconfigure firewalls is with Virtual Private Networking (VPN). This allows users to connect to the enterprise network using a secure channel from wherever they can get access to the Internet. What Dell has done is given them not only a simpler way of setting this up but a range of different clients to support the wide range of operating systems end-users are running on their devices.
It is not only simplicity that Dell has added to the SonicWALL TZ wireless firewalls but support for greater numbers of users. This means that it can be deployed around the organisation so that visitors and users can share the same access point to the network. The difference is that users can then VPN from public areas and connect to core services. In places such as libraries, government offices, retail and even universities, this reduces hardware but increases secure access.
Bundling means getting hardware and features
Perhaps the most useful thing that Dell has done is to introduce feature bundling for customers. Historically, you purchased a Dell SonicWALL device and then paid extra for content management, anti-virus, anti-spyware, SSL monitoring with DPI SSL and VPN. Malecki said: "SSL DPI on the SonicWALL TZ is built into the SonicOS. Customers who buy the TZ300, TZ400, TZ500 and TZ600 will get this for free. The TZ-Soho does not have enough cores and is an entry level product."
Malecki went on to talk about the new bundles saying: "On the commercial side we have different bundles such as Total Secure. The customer can buy the hardware and the security services based on a one year, two year or three year licence. The TZ400 with everything for one year is $1,323 and for three years is just $1,643.
"Another bundle is secure upgrade where the customer replaces a legacy or competitor product. This is a three year deal where they buy the hardware with either two or three years services and support."
These prices will appeal to many customers who will be able to easily amortise the cost of their firewall over that period. It means that on a three year contract the customer is paying around $45 per month for a fully loaded TZ400.
Security as a service
A new approach in the UK is Firewall as a Service for customers who need a fully managed device and who want a cloud type model rather than a CAPEX model. Malecki told us: "In the UK Firewall as a Service the new TZ devices are part of this programme. We see a trend of people moving towards that model. They just go to a local reseller, ask to pay on a monthly basis and can stop at any time. They can even move up and down the stack."
This latter statement is extremely interesting. It means that Dell is determined to acquire customers and then build loyalty over time. As the customer needs change, Firewall as a Service means that they can move to larger or even smaller firewalls. For companies with a lot of branch offices and especially markets such as retail where shops can close unexpectedly, there is no big write-off of hardware.
All of this is managed by distributors and partners who are part of the Dell SecureWorks partner programme.
Conclusion
Dell has done a lot with the SonicWALL brand since it acquired it. There has been a consistent level of investment in both physical devices and additional services. Dell has also ensured that features from the higher end devices continue to trickle down to the smaller firewalls. All of this will continue to breed customer loyalty and cement Dell in the SME space.