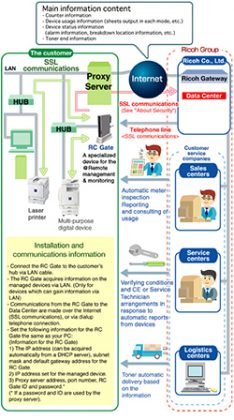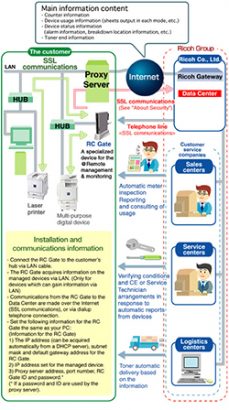 Ricoh has chosen Oracle to supply the hardware for its private cloud to support its @Remote solution. This @Remote service collects billions of data points from an installed printer base, storing them within an Oracle database. The data collected includes toner levels and print settings, and provides reports on configuration, operating status and delivers green reporting including CO2 usage.
Ricoh: Reactive to Proactive
Historically the solution was reactive, able to identify when devices failed or reach thresholds of usage. This meant that engineers to be despatched in a timely fashion to reduce the downtime of printers. Ricoh realised that by having the ability to mine this information further they would be able to note trends in the data point to carry out more premptive maintenance and turn the service from reactive to proactive. In doing so one assumes maintenance schedules could be planned more carefully and engineers days could be better planned, saving costs for both Ricoh and reducing downtime for customers.
Ricoh realised that by consolidating their data stores and introducing data mining they could enhance the service for their customers. The challenge was to find an appropriate hardware solution to do this. They chose to build a private cloud based on Oracle ZFS Storage ZS3 Series to act as an operational data store for the data and SPARC T5 servers with Oracle Solaris and Oracle ZFS Storage ZS3 Appliances for the data analysis.
Toshiaki Sato, deputy general manager, Development Process Innovation Center, Ricoh Company, Ltd. takes up the story: "Our RICOH @Remote data is housed in Oracle Database, which made a private cloud based on Oracle's SPARC T5 servers and ZFS Storage ZS3 a natural choice for accumulating, processing and analyzing big data from RICOH @Remote, … Oracle also has rich insights about analyzing big data and building cloud infrastructure and we knew that the solution would be ideal for accommodating future growth."
One advantage of an optimised environment with both Oracle hardware and software is that they are using Oracle Advanced Compression and Hybrid Columnar Compression. This has allowed them to reduce their data footprint to less than 30 per cent of what it was. The scalability of Oracle ZFS Storage Appliance also allows Ricoh to grow and Hybrid Columnar Compression can result in 10x to 50x compression for archival database partitions. Ricoh will also be using the DTrace Storage Analytics tool, this will monitors performance statistics on the storage, delivering an understanding of the performance of their new hardware.
Conclusion
Oracle co-engineers its software and hardware appliances together. This ensures there are advantages for Ricoh in choosing to build their private cloud with Oracle SPARC servers and especially the ZFS storage servers. The interesting part is how Ricoh have managed to turn their analytics capability from reactive to proactive. They have moved into the predictive analytics sphere smoothly and it shows what companies are capable of if their manage to turn their valuable data into business advantage.