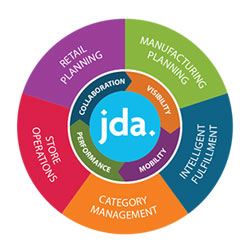 JDA Software has announced that it is to deploy its next generation of omni-channel and supply chain solutions via the Google Cloud Platform.
In a guest blog written by John Sarvari, Group Vice President of Technology, JDA Software was posted on the Google Cloud Platform website to explain why JDA had taken the decision. In the blog Sarvari says that the Google Cloud Platform:
Allows us to operate at the incredible levels of scale necessary to meet our customers' needs.
Has features that enable JDA to completely rethink the business processes we support.
Delivers a powerful and reliable backend system that lets us focus on bringing innovations to market.
Platform as a Service key to JDA's development needs
Sarvari highlights the role that two of the Google technologies play in their delivery of software: "A Platform as a Service (PaaS) solution like Google App Engine removes the constraints of on-premise technology. For example, we provide a solution to forecast sales for both manufacturers and retailers so they can purchase, produce and sell more products more efficiently. Forecasting demands that we process hundreds of millions of pieces of data.
"Google Cloud Platform provides the technology that allows us to integrate additional data, like social media, weather, and IoT information (such as sensors that report agricultural conditions) to increase forecast accuracy to ensure the right product is available to serve the needs of our customers—  and their customers—  at the optimal time."
Over the last few weeks, IBM has been talking up its Bluemix PaaS competitor to the Google App Engine. What is interesting about Sarvari's statement here is that it echoes what IBM has been saying especially with its recent deals with Twitter and the Weather Channel.
Companies that have been born on the cloud such as JDA and Xero are all based on existing PaaS offerings. As enterprise companies look to rewrite their applications for the cloud, they are beginning to see the benefits of PaaS. While this is beginning to result in an increased number of PaaS platforms such as IBM's Bluemix beginning to appear, companies like Google and Salesforce are seeing it drive significant revenue their way as well.
Cloud enables real-time capabilities for Supply Chain Management (SCM)
One of the challenges for any on-premises solution is dealing with increased volume of transactions. Moving to cloud allows companies to take advantage of the elastic nature of resources to cope with increased number of transactions and react in real-time. Sarvari highlight the Google Cloud Dataflow as being key to helping them deal with this saying:
"Using a small Google Cloud Dataflow configuration, we were able to generate replenishment orders in real-time for over 50,000 point-of-sale transactions per minute. In the past, this would have required more hardware and would be processed using overnight batch jobs. Using Google Cloud Dataflow, we can scale to incredible volumes and process information in real-time with ease."
A bridge to hybrid cloud
Not mentioned in the blog and tucked away at the bottom of the press release is mention of the recent FLEX platform announcement that JDA made. FLEX is designed to enable customers to bridge their existing JDA on-premises and cloud based solutions with these next generation solutions built on the Google Cloud Platform.
At the moment, there is little detail on exactly how this will work. For example, will JDA migrate customers between the two clouds? Will it support both cloud environments? Will on-premises customers find themselves with a hybrid solution where their on-premises systems are talking to both the existing JDA cloud and the new solutions on Google Cloud Platform?
However JDA decides to resolve this, the announcements look like good news for customers going forward.