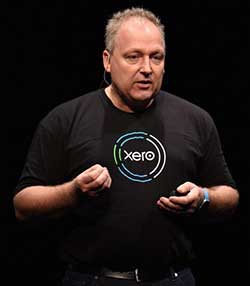 Life seems to be one big bowl of cherries for cloud-based accounting vendor Xero. At Xerocon US, it announced that subscriber numbers worldwide had passed the 500,000 mark. Not bad for a company that openly admits to doing little to no advertising.
Xero gets cosy with Apple
It also announced that it was to work with Apple to deliver new solutions to customers that would leverage the iOS platform. What will be interesting is whether this means Xero are going to take advantage of Apple's app design experience or if it will start writing native apps for iOS.
The latter would mean having to support multiple versions of its apps across different platforms, something that has caused more than one company significant problems in terms of cost and maintenance.
If Xero is working with Apple to help streamline its business process approach that will be interesting for customers. One reason for this is that Apple has been forcing partners to rethink business processes when supporting mobile devices.
Recently, Apple and IBM delivered an airline rebooking system so that flight attendants could rebook passengers while still in the air. When IBM talked about this at its recent Edge conference in Las Vegas, it said that Apple's input to the project meant reducing the number of process steps. Initially there were 17 but Apple insisted that the user experience had to support just 3 with everything else being automated in the backend.
Cloud-based accounting is a significant growth area and one that Apple has no presence in at the moment. It will be interesting to see how this partnership develops, for example, is this only about getting better and more responsive apps on the App Store or will Apple take advantage of this relationship and bid for Xero.
There is another reason why Apple may be interested in Xero. Year on year losses have been mounting for Xero as it looks to continue its growth. It's last accounting return showed a loss of NZ$69.5 million in March 2015. With its deep pockets and willingness to invest in companies, Xero would make an interesting fit for Apple.
One risk here for Xero will be App delivery. As many companies have discovered, when you need to issue an urgent patch or update to an app delivered through Apple's App Store, it can take several days. This means that Xero will have to weigh up the risks of being constrained by Apple's approval policy as it increases its focus on Apple devices.
Wearables and mobile put pressure on infrastructure
Xero also announced support for Apple Watch to provide notifications to users as part of the "Xero Everywhere" vision from the company. How long it will take to extend this to a much wider range of wearables is not known. It will be interesting to see just how many business owners take up the idea of notifications to their wearables as this will inevitably have an impact on Xero's infrastructure
One of the challenges that banks have discovered from the surge in mobile devices is the increased number of transactions going through their systems. While numbers vary between analysts and vendors, most agree that the increase is at least twenty-fold with some predicting increases of over 100-fold. Xero has already spent over NZ$250,000 building out its infrastructure but is this enough to cope with the pressure of wearables?
Xero Me is a new iOS app that makes it possible for employers to push data to employees. Using this app, users will be able to access payroll data, book holidays and collaborate with the office.
Continuing the delivery of free features
One of the things that has stood Xero apart from the competition is its willingness to add new features for free. This has made it very disruptive in the accounting space and according to customers we spoke to at Xerocon UK, is one of the reasons that they like Xero.
It announced free payroll support across Europe earlier in the year and at Xerocon US the company announced support for several states in its payroll component. Xero's U.S. President, Russ Fujioka said "We are extremely happy to see Payroll in Xero continuing to gain momentum with key states including California, Colorado, New York, New Jersey, and Texas. We're looking forward to keeping the momentum going and adding more states each month."
Another free feature announced by Fujioka was a new Business Performance dashboard. This is a reporting tool linked to a set of metrics that also provides visualisation of what is happening in the business
Xero has also integrated Gmail into the Xero Platform. This is more than just an opportunity to see emails from customers. It will enable users to filter their emails by customer turning it into a complete contact management system. This will integrate with other Xero features announced in Europe such as the new quote system.
To round off the new feature announcements, Xero has introduced Xero Billable Expenses. This makes it easier for employees to track their expenses and for companies to allocate them to clients and jobs. Using the camera built into their mobile device they can take a photograph of a receipt which also means that lost receipts are a thing of the past. This feature will go live in July 2015.
Xero creating clear water between them and the competition
One of the boasts from Xero CEO Rod Drury at Xerocon Europe was "… it will be hard for competitors to invest the levels of money required to catch us." On the evidence of Xerocon US and the continued delivery of free feature, Drury appears to be not only cementing the lead Xero has over its accounting rivals but also setting the bar even higher for the chasing pack.