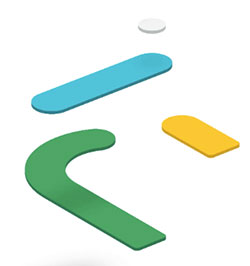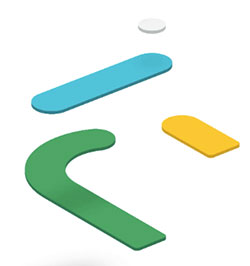 Google has introduced Project Fi as the Internet behemoth looks to move into the mobile network operator space. The idea is that users will connect to any one of more than a million free Wi-Fi hotspots that Google claims to have verified are fast and secure. When their device cannot find a hotspot, users will automatically have access to data services such as 4G LTE from two of the smaller US carriers, Sprint and T-Mobile.
According to the official Google blog from Nick Fox, VP of Communication Projects, Google the technology underpinning the service will determine which is the fastest network available to the user, Wi-Fi or 4G LTE. Fox said: "When you're not on Wi-Fi, we move you between whichever of our partner networks is delivering the fastest speed, so you get 4G LTE in more places."
Google's pay for "what you use" price promise
Mobile users have long put up with their providers gouging them for the use of mobile data. If you exceed your monthly allowance you can find yourself paying exorbitant prices when you access data. As a result, many people pay for far more data than they actually use. The problem is that the mobile phone operators do not let you carry over unused data allowances to the following month.
So how does the Google price promise work? Users pay for the Fi Basics service and then pay a flat rate of US$10 per gigabyte of data. If you use less than you buy, Google will credit you for the unused data. What isn't stated is what happens if you exceed the limit. Will you still pay $10 per gigabyte for excess usage? We emailed Google when the announcement was made and have no response yet.
One thing that will appeal to many is that there is no contract with Project Fi. This means that you can turn it on and off depending on when you need it. For those who travel internationally, this could eventually end up saving businesses substantially amounts of money.
Google has also taken the decision to allow users to use tethering with Project Fi. While some mobile operators allow you to use your mobile device to connect a PC to their network, others do not. This will inevitably force the hand of those operators who still prevent tethering.
Project Fi delivers coverage in 120 countries
Initially it appears that Project Fi is only available to users based in the US. However, they are not locked into the US with Google promising coverage in over 120 countries worldwide with no additional costs for data roaming in the countries where it has deals. There will be a 20c per minute charge for voice calls but this is significantly lower than the standard roaming call costs.
If users are roaming outside of the 120 countries they will need to either change their SIM card or use another service. Google states that this is to prevent shock telephony bills and all of the details are covered in the International Usage part of the FAQ available here.
Disrupting the telco market
Google aims to disrupt the standard mobile telephony business model and success could have far reaching consequences for mobile operators especially in Europe. Many European operators have complained about the crackdown on roaming costs saying that it will have a long term impact on profitability and inhibit their ability to invest in new services.
While the European Commission (EC) disagrees with this, it took the decision in March to delay the forced ending of roaming charges across the EU. This means that users are still subject to paying charges for making and receiving calls as well as downloading and using data. Comparing European roaming charges with Google's price plan, it is clear that while the cost of making phone calls is the same as the European charging regime, data is vastly cheaper and Google does not charge for sending or receiving SMS text messages.
There are some European operators who have chosen to go further than the EC has set out but none have packages that match what Google is proposing. This opens up a range of issues. The first is whether EC ministers will now backtrack on their decision to retain roaming charges as Google demonstrates there is still room to lower costs further.
The second issue is one of competition. Google is already fighting a battle with the EC over what are seen as anti-competitive practices and it will be interesting to see how quickly European operators file a complaint over Project Fi. At the moment, with this being only open to those with a US address, there is little they can do. However, should Google offer this in any EU country, it is likely that operators will look to respond quickly.
Can Project Fi defeat the coffee shop hacker?
In the blog, Fox claims that Google will secure data by using encryption and that the one million Wi-Fi hotspots it will use are both fast and secure. It will be interesting to see the specifics of what Google means by secure. Public Wi-Fi is a hackers dream and sadly, all too many who wander down to their local coffee shop to work are oblivious to the risk of being hacked.
To show how easy it is to attack Wi-Fi hot spots, a recent ethical hacking experiment showed that a seven-year-old could hack a coffee shop Wi-Fi in under 11 minutes. Experienced hackers can do this while their coffee is being made by the barista. It will be interesting to see how Google monitors the Wi-Fi hotspots to ensure that they are secure and how often it removes Wi-Fi hotspots who fail ongoing security checks.
Project Fi only available on Nexus handsets
Unsurprisingly, Project Fi users will require a Nexus 6 handset to get started. Google is going to be selling these direct to users with the 32GB model costing $649 and the 64GB model costing $699. Users are being offered a one off payment or the ability to spread the costs over 24 months with no interest or fees. This is another challenge to the operator model where they make money off of handsets over the term of the contract.
For those users who already have a Nexus 6 they can get a SIM card from Google and even port their existing numbers to Project Fi.
Conclusion
This is a clever move by Google as it looks to open up new markets and drive its devices deeper into the mobile market. The only question for most people is how soon can I get a handset?